Ornamental raised Helves gates with twisted metal bars and a 1.25m top rail height and a solid base rail as standard.
Made from untreated Siberian Larch it has exceptional stability and is ready to paint, stain or as this is a dense and durable softwood can just as easily be left to weather naturally.
For full details on timber types Click here

A painting or staining service is available for all our gates.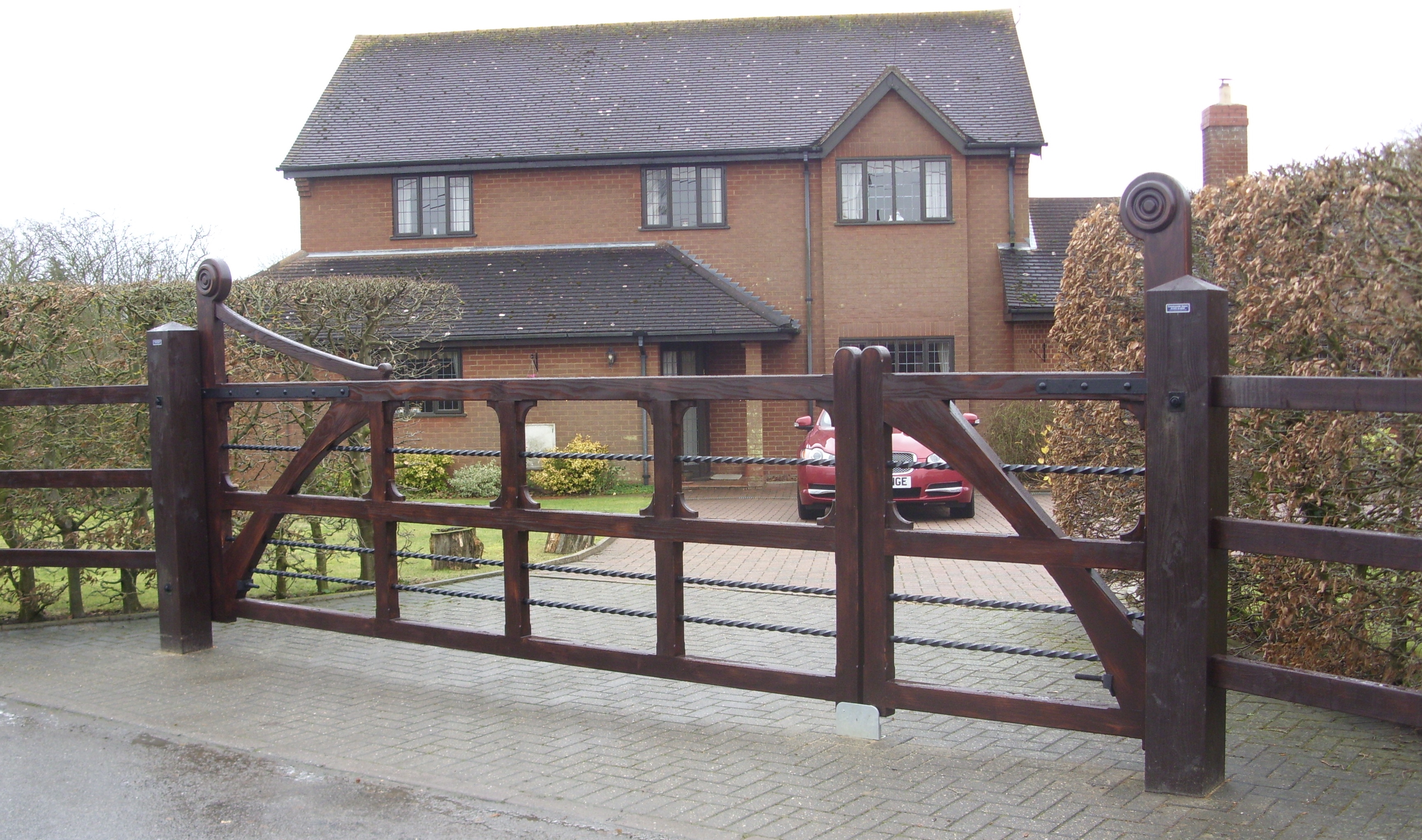 The above gates are hung as a pair with a matching pedestrian gate and have been finished in Sadolins Extra Jacobean Walnut.
They have a magnetic closer instead of a throw over loop giving a more streamlined look and matching post and 3 rail returns.

Pedestrian gates are also available without the raised helve.
Prices inclusive of VAT
| | |
| --- | --- |
| Choose your timber | Larch |
| Choose your width | 900mm, 1.2m, 1.5m, 1.8m, 2.1m, 2.4m, 2.7m, 3m, 3.3m, 3.6m |
Below is a list of key points to help you quickly and easily compare gate designs:
Tapered top rail: No
Larger hanging stile: Yes
Additional rails available: Yes (extra cost)
Solid base rail: Yes as standard
Vertical centre brace: Yes on widths over 1.2m
Softwood Timbers available: Larch
Widths available: 900mm to 3.6m
In between widths available: Yes
Best for automation: Yes


Ornamental Helve Gate Installation Service in Suffolk
Countryside gates offer a range of installation services within Suffolk and the immediate surrounding areas.
If you would like a quote for installation of your Ornamental Helve Gate please contact us.